Friday, October 3rd, 2008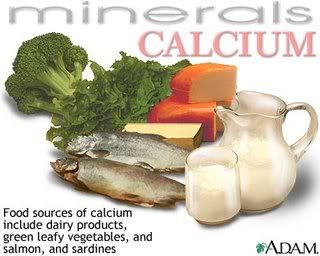 Most Americans have a calcium deficiency. Calcium is the mineral most critical to achieving and maintaining strong, healthy bones and minimizing bone loss later in life, and milk and other dairy products are often promoted as the preferred source. But many people dislike milk and other diary products, but some are also vegan or lactose intolerant. So what Spokane super foods can help you get enough calcium?
What Spokane super food can I eat to get more calcium?
According to the U.S. Department of Agriculture, the calcium absorption from most foods, including dairy products and grains, is about the same. However, calcium may be more poorly absorbed from foods high in oxalic acid (spinach, sweet potatoes, and beans) or phytic acid (unleavened bread, raw beans, seeds, and nuts). These acids bind with calcium and prevent its absorption, but they don't prevent the absorption of calcium from other foods eaten at the same time. There are many plant-based sources that are well absorbed, such as soybeans , soynuts, bok choy, broccoli, collards, Chinese cabbage, kale (see recipe below for a simple, calcium rich recipe), mustard greens, and okra.
You can also take calcium supplements to ensure that you're getting the recommended daily amount, but don't exceed 2,500 milligrams per day from both food and Spokane super supplements. Excess intake can increase risk for some health problems like kidney stones.
How does getting enough calcium in Spokane super foods help keep me healthy?
Getting enough calcium in your diet through your food or Spokane super supplements helps keep your bones healthy. Without strong, healthy bones, you won't be able to exercise. If you can't exercise the you will very likely gain weight. So make sure to get enough calcium and also contact Zach Hunt with Physzique personal fitness to keep your body in shape and your diet balanced!
Winter Vegetable Hash
INGREDIENTS
• tablespoons olive oil
• 2 tablespoons butter
• 1 pound Yukon Gold potatoes, diced
• 1/2 pound fresh shiitake mushrooms, diced
• 1 red bell pepper, diced
• 1 small acorn squash, diced
• 1 shallot, finely chopped
• 2 teaspoons garlic powder
• 1 pinch salt
• 1 pinch ground black pepper
• 1 cup chopped kale
• 4 sprigs fresh sage
DIRECTIONS
1. Place oil and butter in a large skillet over medium heat. Melt butter and mix in potatoes, mushrooms, pepper, squash, and shallot. Season with garlic powder, salt, and pepper. Cook 25 minutes, stirring occasionally, until potatoes are tender.
2. Mix kale and sage into skillet. Continue cooking 5 minutes, until kale is wilted. Serve and enjoy!