Sunday, October 12th, 2008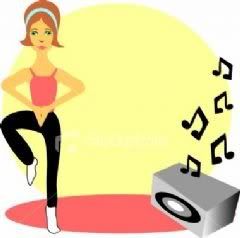 At some point or another, you have probably discovered that music can inspire you. Whether you are feeling kind of blue and want to snap out of your funk, needing to get a ton of work ton and need something to help you keep up the pace, or need some speed encouragement while out on a run, music is there for you. But did you know it really is helping you with fitness Spokane Valley? The theory that music motivates us to exercise harder has been put to the test by Brunel University's School of Sport and Education researcher Dr. Costas Karageorghis.
Thirty participants worked out on a treadmill while listening to specifically selected tracks based on such factors as beat (120-140 beats per minute) and motivating lyrics. They were instructed to keep pace with the beat as much as possible. At the end of the study, participants increased their endurance by and average of 15%. Dr. Karagorghis says that music motivates us because it has the ability to affect our mood. As a result, if we listen to upbeat music, it will negate some of the pain we experience towards the end of our training session and helps us truly "go the distance."
How can I apply this to my fitness in Spokane Valley?
The easiest option is to just grab your iPod or other personal music device and go for a run. Make sure that your play list includes music with a fast tempo. The music doesn't have to be the techno dance club music that many Spokane athletic clubs play, such as the Liberty Lake Athletic club, Oz Fitness Spokane Wa, Snap Fitness Spokane and Anytime Fitness Spokane  play, just make sure it is upbeat. If you like classical music there are several pieces of classical music that are over 120 beats per minute.
But what is the BEST way to apply this to my Spokane fitness?
Physzique personal fitness plays a variety of upbeat music to help keep you motivated. Zach Hunt, owner of Physzique keeps the volume set at a level that the rhythm keeps you motivated but it isn't so loud you can't think. And Zach is there to keep you motivated, too! So make sure to get your play list read, and call Zach Hunt with Physzique personal training today!