Tuesday, May 19th, 2009
We all know that working on our Spokane Personal Fitness with the best Spokane Fitness coach can improve your health, lower your cholesterol, reduce diabetes symptoms, and in general just give you a better quality of life.
But did you know Spokane Personal Fitness can flat out save your life, too?
Recently, a woman made the news because her highly developed abdominal muscles saved her life. She was setting up to go paragliding in Spain when a sudden gust of wind lifted her up and flipped her over, dragging her across the rocky ground, all the while her stomach being beaten by the rocks.
While she suffered from a torn liver and pancreas and some major bruises and scratches, her injuries could have been much worse. Your average person would have had injuries so sever they would have been taken into emergency surgery. But since her core muscles were so highly developed, she avoided the worst. The medical director of the Women's Sports Medicine Center at the Hospital for Special Surgery in New York said that the stronger your "musculoskeletal system" is, the more your internal organs will be protected.
What sort of Spokane personal fitness should I do?
To strengthen your core mucles, you really need you whole body to be in shape. Cardio work can help you lose any excess fat, which is an essential first step. Speed walking, jogging, swimming, any thing that will be easy on your joints at first. Then replace that fat with muscles with some light resistance training. Start with ten to 12 pound weights added to your cardio work. If you are walking or jogging, there are some great strap on weights you can use, such as vests or ankle and wrist weights.
You can also do the following exercises to building your core strenght:
Crunches
Planks
Squats
Leg lifts
Reverse crunches
Lunges
Weighted crunches
Seated, weighted side twists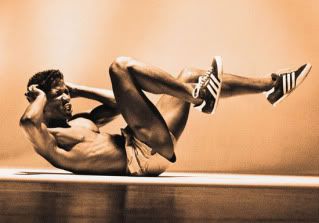 But to get the absolute best results, make sure to contact Zach Hunt with Physzique Personal Fitness. He can help you get in the best shape of your life, and do it in a safe, healthy way. Even if you consider yourself to be fairly fit already, Zach can help you get toned and trim, and make your core stonger than it has even been before.