Thursday, July 2nd, 2009
You're a sportsman.
You tromp through the woods to get to the mountain lakes and then along the primitive shores to find the right spot. Or wade out in thigh-high, cool stream water with your fly rod. Or balance in the bow of the boat so you can cast for bass just so.
You're doing some Spokane area fishing, and there is nothing like it. With dozens of lakes and streams within a few hours' drive, Spokane's got just what you're looking for.
Being in shape to fish is important.
 But, if you aren't in shape, you'll feel it big time tomorrow. Or worse, you could slip, fall, or over-exert and get in some real trouble. Getting in shape—
·         increases your stamina and strength,
·         improves your balance,
·         adapts your body to exertion in the heat by improving temperature regulation,
·         decreases soreness and stiffness after an outing, and
·         helps prevent injuries from the outdoor activities, like Spokane fishing, that you so enjoy.
Physique, a Spokane-area fitness center, can get you there!
The human body is made for physical activity–work and mobility. Muscle accounts for over half our body weight and we are essentially the same creatures as roamed the savannahs or lived in caves 10,000 years ago—hunting and fishing for survival and being physically active every day. But now many of us live static lives at desks and computers, or do repetitive work without using the full range of muscles, and the body loses tone, endurance, and general ability.  So, make sure you are fit for Spokane fishing by getting in shape at Physzique.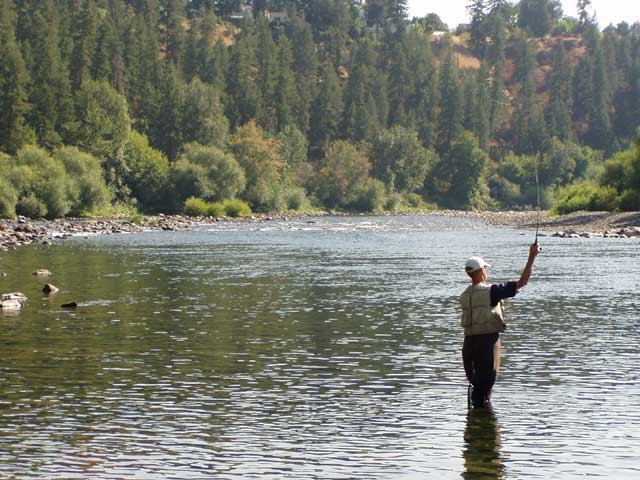 Fishing itself probably isn't aerobic enough to be considered a good cardio-vascular workout. But yes, you're burning calories and using muscles fighting the current, climbing over rocks and logs, walking for miles, casting all day, or struggling with and reeling in the big ones. That's why you feel it afterwards. And that's why it's important to get in shape at the fitness center before you go out, and stay in shape by continuing to work out, so you can enjoy Spokane fishing more, enjoy it longer, and enjoy it day after day!
Physzique offers affordable, guaranteed personal fitness training that helps you lose body fat, reduce stress and anxiety (like fishing!), feel better physically and mentally (like fishing!), and have fun doing it (like fishing!).
Zach Hunt, Spokane fitness coach, gives you personal attention and guidance to help you achieve your weight and fitness goals through a comprehensive program. Contact Physzique today so you can get started getting in great shape so you can enjoy more Spokane fishing this summer!